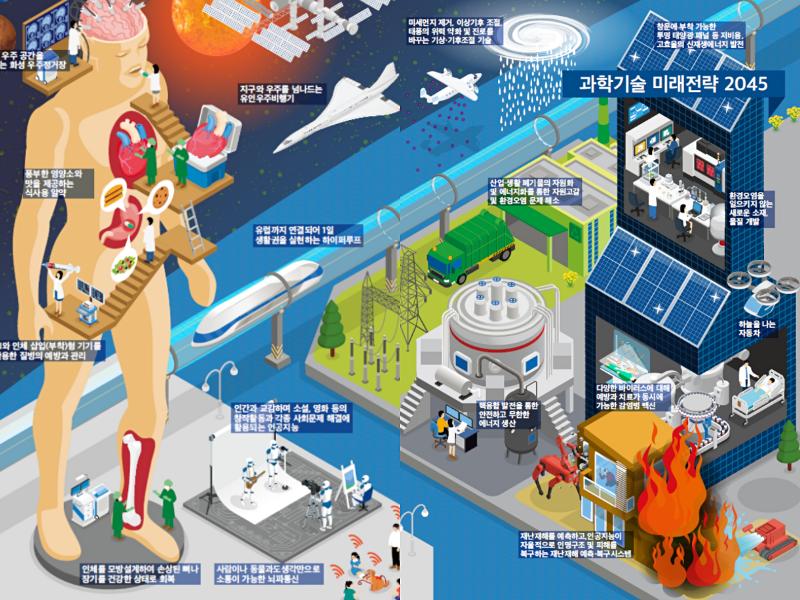 A few days ago in 2045, Su-yeong got a new tooth thanks to reproductive stem cell technology that replaced her old tooth with a healthy new one. People can replace not only their teeth but also skin, bones and internal organs such as the liver with artificial versions. Moreover, technology has restored aged cells to those of newborns, a development expected to significantly extend the longevity of human life.


By Xu Aiying and Yoon Sojung

Though it might sound like a science fiction novel, daily life in Korea in 2045 could see major scientific and technological advances.

The Ministry of Science and ICT on Aug. 26 announced the plan "Science and Technology Future Strategies 2045" at the 12th meeting of the Presidential Advisory Council on Science & Technology in Seoul.

The plan shows what daily life could be in 2045, the centennial anniversary of national liberation, covering eight challenges Koreans will face in the future.

For climate change, the ministry aims to slow global warming by using high efficiency and eco-friendly energy and carbon capture, utilization and storage (CCUS) technology. Its blueprint also envisions a data-based management system for disasters and the securing of technologies to tackle climate change, such as the use of materials emitting no fine dust.

Curing what are now incurable diseases and brain-related ailments is also among the eight tasks. The plan mentions gene editing and stem cell treatments for cancer and hereditary diseases as solutions to these problems.

Advances in science and technology are expected to raise abundance and convenience in society. The ministry will also secure food for the future by establishing ICT-based, 24-hour unmanned agricultural and fish farms and factories to operate year round.

By securing clean hydrogen energy and expanding urban solar power, the strategies aim to secure a stable energy supply and advanced futuristic technologies such as the development of mini-size batteries with large capacity, space-based solar cells and power generation through nuclear fusion.

The strategies seek to develop technologies contributing to equality, non-discriminatory communication and social trust. The ministry said the plan will help people communicate using virtual reality and enable humans, machines and animals to communicate through brain waves, which will allow unique experiences.


These strategies are expected to create a more trustworthy and safer network environment backed by blockchain, quantum cryptographic communication and next-generation future security technologies.
Moving vehicles will see a major paradigm shift. For example, a manned spaceship will make a roundtrip from Seoul to New York within two hours.



xuaiy@korea.kr